By Isaac Tugume
The Chief Executive Officer (C.E.O) of Black Market Records, Cedric Singleton, who is in Kenya, on Wednesday finally met with Mr. John Ogilo Migun, who has since been nicknamed the 'Kuna Kuna' Chief.
Ogilo, who is the sub-location chief in Kisumu, became popular after a video of him dancing to 'Kuna Kuna' while at a famous night club went viral on Tik Tok a few days ago.
Ever since his 'Kuna Kuna' dance video went viral Ogilo has been the focus of media attention, with several newspapers, blogs, websites, plus TV and radio bombarding him with requests for interviews.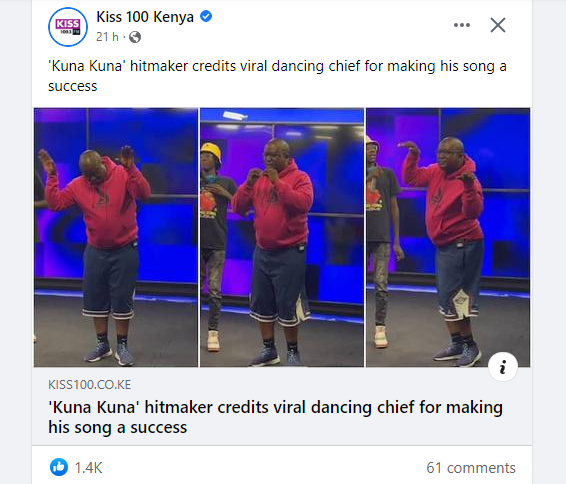 It is this popularity, coupled with his being a great fan of 'Kuna Kuna' that prompted Singleton, who flew from America to East Africa for a working visit, to seek him out.
During their meeting, Chief Ogilo hailed Singleton for running a successful music label and promoting African music.
With over 11M YouTube views, 'Kuna Kuna', a song by Vic West featuring Fathermoh, Savara, Brandy Maina and Thee Exit Band, is currently one of the biggest songs not only in Kenya but also in East Africa and the rest of the world.
The video, which has since gone viral on all social media platforms and is attracting thousands of dance challenges, has since elevated Vic West from being just a mere producer to becoming a first-ticket Kenyan artist.
If you haven't watched Kuna Kuna yet fret not, because it is available on YouTube and you just have to click the link to stream it.