By Isaac Tugume
'Kuna Kuna', a runaway hit by Kenyan ace music producer Vic West featuring Fathermoh, Brandy Maina, Thee Exit Band and Savara, has been ranked on Boomplay among the Top 100 Kenyan songs of 2023.
Despite having dropped late last year, 'Kuna Kuna', which currently ranks No.#03 among the Top 100 Kenyan songs on Boomplay, continues to register hundreds of thousands of streams daily.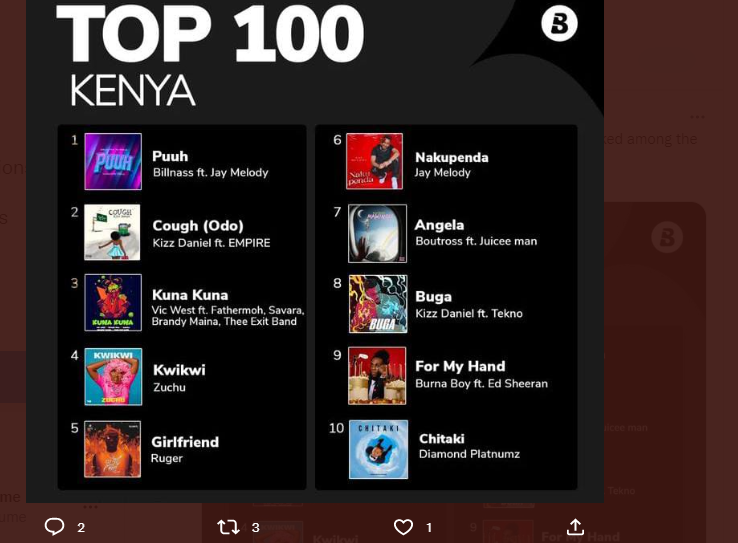 It is currently one of the songs that are attracting attention for Boomplay users from all over the world, reason why the project ranks highly on this digital streaming platform.
Meanwhile, it should be noted that 'Kuna Kuna' is not only performing well on Boomplay but also on other digital streaming platforms like Spotify, Deezer, Mdundo, Apple Music i-Tunes, to mention but a few.
That goes without mentioning that 'Kuna Kuna' is currently the biggest song in the Kenyan music industry with over 10.8M YouTube views and still counting.
Being the first studio project to hit that record, 'Kuna Kuna' has since gone down in history as the biggest Kenyan song of all times after the video clocked 10M YouTube views within just three months of its release.
The studio project has since seen Vic West become a multi-award-winning Kenyan artist, after he bagged two accolades in 2022/2023 Pulse Music Video awards which were held in Nairobi, Kenya.
You haven't enjoyed great African music if you haven't streamed 'Kuna Kuna' yet; just click the link.