By Isaac Tugume
Joefes, a Kenyan artist performing with famous singing trio Mbuzi Gang, is slated to officially premiere his new album dubbed 'Toxic' on Citizen TV, today!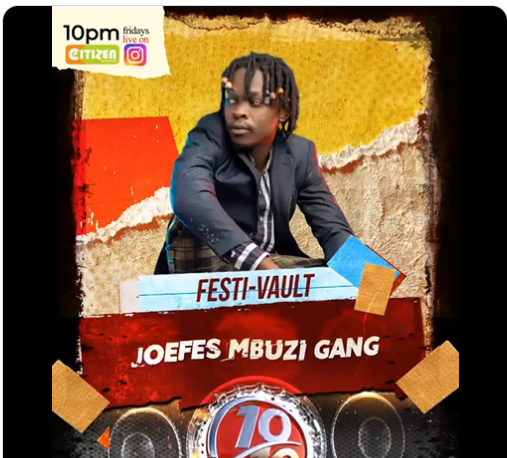 He will unveil the album during Citizen TV's popular live entertainment show dubbed Festi-Vault, starting at 10:00Pm.
With this album, which is Joefes' biggest Gengetone studio project ever, he blesses his fans with the following thrilling jams; 'Blue Ticks' ft. Unspoken Salaton,'Flex' ft. Teslah, Unspoken Salaton, 'Disconnect' ft. Shourty Official & Unspoken Salaton, 'Morning Glory','Chargy', 'Pere' ft. Magix Enga & Unspoken Salaton, 'Mochability', 'Snakes', 'Is It Just Me' ft. Unspoken Salaton, 'Water' ft. Nasha Travis, Teslah & Unspoken Salaton, 'Selfish' ft. Teslah & Unspoken Salaton, 'Confirmed' ft. Fathermoh, Unspoken Salaton & Odi Wa Muranga and 'Outro' ft. Arif.
The album is already making Joefes turn heads everywhere he goes, because the project has imprinted his name on the list of Gengetone artists who are on top of their game.
Joefes' ability to flawlessly navigate different styles and themes showcases his versatility as an artist and it's because of this potential to blend well with other artists that he managed to come up with all the super-duper collabos on this album.
Tap the link to stream the entire album on YouTube.